--- by Justin Powell
My group sets up 4-6 nets every day and the first few nets are typically set up by those of us who arrive at 7:30. So I have a fair amount of experience with setting up nets.
There are a bunch of people in my group, so I'll share the common thoughts I heard:
 Likes:
Design looks cool

The net was nice and tight

Felt very sturdy

The Center pole was much more sturdy than the Rally/Pickleball Central nets we use

All poles have rubber caps to protect the net and they are a bit heftier than the Rally/Pickleball Central Nets

The center pole pocket was reinforced and the pole had a plastic end to prevent that area from tearing. This is the first breaking point on the other nets we use. 

I liked the rectangle shape of the feet of all the upright supports. Looks finished and solid 
Mixed feedback, but with my personal opinion:
Some people didn't like the net height (The net goes all the way to the ground). Everyone who showed up after it was set up thought it was high. It must have been measured 6+ times because it looks high, but it's not. Personally, I like that it goes to the ground.

Some missed being able to kick/hit the ball under the net, but I liked that the net rebounded the ball back to me and the ball couldn't go under. 

Some liked the black net, but all of us missed having white tape across the top. If I were to get a different one, I'd get a white one and there's a part of me that wants to add white tape to this one. 

Some said the yellow poles matched the ball color too closely, but I didn't feel that way.

Some said the height of the supporting yellow pole almost looked like a line on a court with a lot of lines. I didn't feel this way. The same could be said about any height or color pole. 

Some didn't like that every pole had a snap-in button and felt like it was overkill, but I felt like it made it more sturdy
Cons:
Poles were hard to assemble due to the thick paint. I could barely get the poles apart after playing and having sweaty hands. But I think this will wear off over time.

Because some of the guys weren't waiting to read the instructions, we set the net up backwards to the center pole the first time. This isn't really a con...as much as it is a heads up that this design requires you to pay attention. In the end, it's worth it because it's much more stable.
All in all, I think the major differentiating and strong points of this net are: 
Dedicated snap-in hole for the center pole

unlike other brands, it doesn't just float/hang/or attach with velcro

Snap together pieces

unlike other brands, this net snaps together and keeps a firm locked position. The makes moving it easier as the poles only come apart when the player wants them to

Reinforced center pole pouch

Unlike other brands, the A11N net reinforces their product at a common failure point found in competing products

Net height goes to ground

unlike other nets, this net goes all to way to the ground giving a more finished look and prevents balls from going under the net accidentally

All in all a more finished look and feel

unlike the other brands, the A11N poles have square feet, giving them more structural stability and a more finished look and feel. 
If you're looking to buy a net, this one is cheaper than many others and seems to have a bump in quality to the Rally/Pickleball Central net that is (at the time of writing) $80 more expensive. This looks very similar to the Vulcan net, but it's $60 more.
So, overall I'd recommend this net. If you are a club or group buying 6 nets, you'd save over $450 bucks by buying these over the Rally/Pickleball Central nets like what my group plays with. Let me know if you you have any questions about the net...and if you've used one of these, I'd love hear your thoughts too.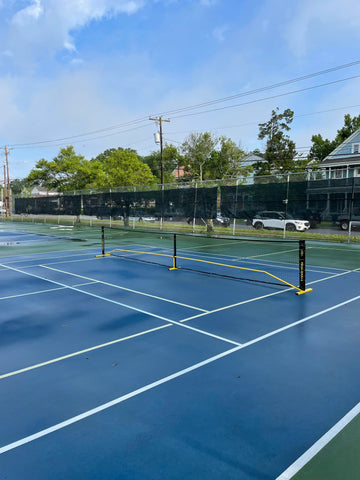 Looking good on our wet court (which dried out quickly)
Thick plastic cap on top of outside upright poles. Good-sized rectangle feet.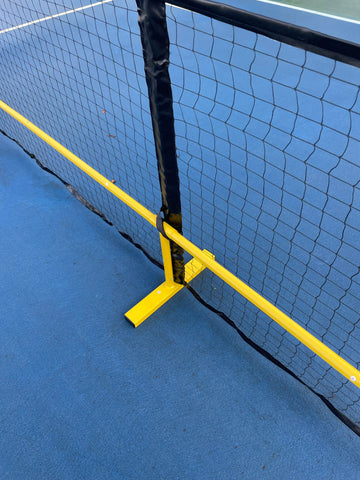 Sturdy middle support foot. There's a locking pole inside the black upright that stays very stable.